Permaroof Portsmouth has a summer special offer in mind for our customers during the whole of August, to help prepare for the seasonal issue of autumn blocked guttering. We're offering a free GutterBrush with every EPDM roofing job we do, and we can't wait for you to get your hands on yours.
The summer is ideal to check out your roofing to see if you have any issues. Look out now during hot weather to see if your flat roofing is bubbling or water is ponding after heavy rain. Don't leave the roof until winter, as you won't easily spot these signs. If you see any problems or potential vulnerabilities, call us and let us assess what's going on.
Keeping gutters clear of debris with a GutterBrush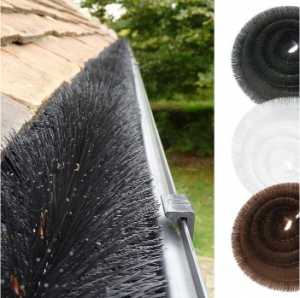 Gutter clearing to try to avoid the costly damage that can be caused by clogging and subsequent overflow is a common practice among UK homeowners. Clogged gutters are one of the most common causes of roof leak damage. We know that often it is the simplest ideas that are the most effective.
The GutterBrush is such an invention, designed to sit in standard gutters and can be secured firmly with wires at the ends. Polyurethane filaments wound round a steel core, much like a bottle brush, sit above the gutter and stop leaves and other small debris from getting into the gutter. Water passes easily through the filaments and drains away as usual down the drainpipes.
How Permaroof Portsmouth can help you
We're a friendly bunch of specialist flat roofers covering Portsmouth and the surrounding areas. We are proud of our customer service values and always give a free insurance-backed guarantee so that you can have confidence. Get your EPDM flat roofing jobs done right first time with Permaroof Portsmouth.
Did you know that we also offer finance packages to help spread the cost of all your EPDM flat roofing jobs? Talk to us this year about your roofing projects on 02394 217799 today – get your free GutterBrush this summer and put the worry about clogged gutters out of your mind.