Flat Roofing in Portsmouth
All flat roofing in Portsmouth installed, replaced or repaired
Whether you need to replace an old metal or felt roof on a garage or extension, if you are looking for a brand-new installation using a rubber roofing system, we can help. Contact us for a no obligation chat today.
Why we use EPDM
Save Money
One investment that you may need to make on your property is flat roofing, this could be due to an extension being built, or perhaps due to repairs needing to be made on a roof that you currently have.
Flat roofing can be expensive. However, if you do choose the right material then you can make sure that it is a long-term investment for your home. One great option to consider is EPDM membrane. Not only can it be cost-effective in the short-term, especially when it is compared to other roofing materials out there. But, in the long-term EPDM membrane can also save you money too.
It is durable
One great reason to install EPDM membrane on a flat roof in your home is that it is durable. It is made to last and despite being crafted from recycled materials, it is strong. In fact, you might be surprised to learn that many roofs that are installed with an EPDM membrane can actually last a lifetime.
It is weather resistant
The weather here in Portsmouth can be incredibly changeable. Of course we do have times when it is sunny and bright, but we also have times when there will be heavy rain, strong winds and of course snow and ice too. EPDM membranes are designed to withstand a variety of different weather situations. The sun won't have an impact and neither will the rain, which means that you don't have to worry about whether it is going to stand strong.
It is easy to repair
Whilst EPDM membrane is long lasting and durable, there could still be a chance that you will need it to be repaired from time to time. This could be down to adverse weather conditions or perhaps damage from another source. The great news is that compared to some other materials out there if you do need to repair your EPDM membrane roof, it is going to be cheap and easy to do. Great news for anyone is not the biggest fan of DIY or who doesn't want to have to invest too much more money on their property.
EPDM membrane is an investment for your property. It is not only eco-friendly, but it is also durable and long-lasting too. It is thought that if looked after properly and installed properly, that a roof which has been covered with EPDM membrane is actually going to last a lifetime. So, whilst you are going to need to pay out initially to buy the materials that you need to install your EPDM membrane, you are going to be able to save yourself some money in the long run.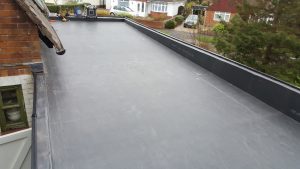 Spread the cost with Permaroof Portsmouth
Permaroof Portsmouth nows offers a range of finance packages to help spread the cost of your new EPDM flat roof. Our customers can now select a finance option to suit you from £750 to £25,000 and get a fast decision with our on-the-spot application and approval process.
About Your Local Roofers
We can offer professional service in all aspects of roofing, if your roof needs a small repair or a complete roof we can provide you with a competitive quote free of charge along with any advice you may require.
Permaroof Portsmouth started trading under license October 2018. Prior to this we have run a highly successful roofing business with 25 years experience in both flat and pitched roofing. We decided to join the Permaroof Network, as they have been around for over 18 years and have built a highly reputable supply business across the UK. We work together ensuring the highest of standards. They are one of the largest EPDM suppliers in Europe, and are authorised distributors for Firestone Building Products, who have over a century of knowledge within the rubber industry.
A Part of the Permaroof License Network
As part of the Permaroof License Network, we offer Insurance Backed Guarantees as standard. Every installation is photographed, before, during and after and is logged on file as part of the guarantee registration. To strengthen this we are also open to random quality control inspections, so you as a consumer can be assured you are getting a quality installation.
Areas Covered
Permaroof Portsmouth cover a wide area including Portsmouth, Southsea, Fareham, Gosport, Chichester, Bognor, Havant, Waterlooville and the Isle of Wight. We also welcome enquiries from the surrounding areas.