Looking for Roof Repairs Portsmouth?

Whether you have missing slates, damaged rubber roofing, or pointing or flashing in need of attention, we can help you. Whether your repair is urgent or has been on your list for some time, we'll offer you the same, cost-conscious service, no obligation quote and a guarantee of our work.
Repairing a Flat Roof – What You Need to Know
When a roof leaks, it can lead to damage to roof decks, interiors and goods stored inside. Depending on the severity of the leak, flat roof repairs Portsmouth needn't be costly or time-consuming if the right materials are used.
There are a few options for repairing a roof.
Emergency Liquid Roof Repair
Emergency roof repair liquids work straight out of the tin and waterproofs instantly. This can provide a reliable seal in an emergency situation. Ideal in a maintenance capacity, the liquid rubber solution contains fibres that can help strengthen and seal small cracks easily and reliably. The liquid is applied using a brush or roller and can be used with other roofing supplies to seal cracks around pipe vents or other extrusions. Because of it's ease of application we are able to keep costs minimal for you.
Membrane Repairs
Over time, some roofing membranes wear and weather, degrading the membrane and allowing cracks and weak spots to appear. If you need to repair membranes or replace the roof altogether, consider using EPDM to provide reliability both for a quick fix roof repair and also over the long-term.
EPDM membranes occasionally need to be repaired if damaged by debris or accidental puncture. We always used specialised EPDM accessories, adhesives and sealant to maintain the performance level of the entire roof.
Prevention is better than cure
Although no one can predict an emergency situation, such as storm damage, there are simple checks you can carry out to get advance warning of the likelihood of a roofing failure.
All you need to do is to get a good look at the flat roof on a regular basis. If you've got outside buildings, like sheds and garages, look out over them from an upstairs window, particularly after a storm or heavy rain. Signs you may have a problem brewing:
Ponding water
Bubbles
Overflowing gutters
Slow draining drain outlets
Uneven surface area
Ridges or ripples in membrane or felt
Sagging at any point
Spot any of these signs and go inside the building to check the roof internally. Signs to look for could be damp patches or sagging, peeling paint or paper or black spots. Keeping a regular eye on your flat roofing is always a good idea. Get to know your roofs and you will immediately spot when something has changed. Then you will be able to address the issue before it becomes something more serious.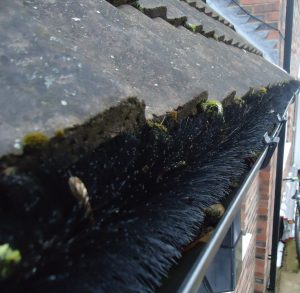 Spread the cost with Permaroof Portsmouth
Permaroof Portsmouth nows offers a range of finance packages to help spread the cost of your new EPDM flat roof. Our customers can now select a finance option to suit you from £750 to £25,000 and get a fast decision with our on-the-spot application and approval process.
About Your Local Roofers
We can offer professional service in all aspects of roofing, if your roof needs a small repair or a complete roof we can provide you with a competitive quote free of charge along with any advice you may require.
Permaroof Portsmouth started trading under license October 2018. Prior to this we have run a highly successful roofing business with 25 years experience in both flat and pitched roofing. We decided to join the Permaroof Network, as they have been around for over 18 years and have built a highly reputable supply business across the UK. We work together ensuring the highest of standards. They are one of the largest EPDM suppliers in Europe, and are authorised distributors for Firestone Building Products, who have over a century of knowledge within the rubber industry.
A Part of the Permaroof License Network
As part of the Permaroof License Network, we offer Insurance Backed Guarantees as standard. Every installation is photographed, before, during and after and is logged on file as part of the guarantee registration. To strengthen this we are also open to random quality control inspections, so you as a consumer can be assured you are getting a quality installation.
Areas Covered
Permaroof Portsmouth cover a wide area including Portsmouth, Southsea, Fareham, Gosport, Chichester, Bognor, Havant, Waterlooville and the Isle of Wight. We also welcome enquiries from the surrounding areas.